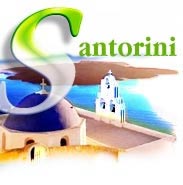 - TRADITIONAL WINERY IN SANTORINI
Click arrows ( up & down) to see the text

As has happened for the last thirty years now during the summer season (May - October), Yiannis Roussos and his team daily receive visitors at the traditional Kanava Roussos winery at Episkopi - Mesa Gonia, Santorini, guiding them around the installations to the mysteries of traditional flavours from Thiran earth, sampling seven different wine products: Santorini Roussos, Nykteri Roussos, Rivari Roussos, Caldera Roussos, Athiri Roussos, Mavranthiro Roussos and Nama Roussos. CANAVA ROUSSOS will prove a challenge to wine buffs on their enjoyable stroll among the barrels.

The activities of CANAVA ROUSSOS do not stop here, however. Our journey continues, daring to tread new paths, with tradition and quality our compass.

So too, this summer, the CANAVA ROUSSOS traditional taverna will satisfy your gastronomic needs and provide a much needed genuinely local venue to travel back in time and tastes, with a menu of our own customary dishes, authentically prepared to long-standing Santorini recipes with purest local produce, set to satisfy the most demanding guest. We aspire to becoming your number one gourmet choice.

As well, we invite you to enjoy our special "Santorini Evenings" , each dedicated to a more extensive sampling of our wines, and served with complementary selections from our traditional menu.

A final note, we often host theatre performances, concerts and exhibitions.